Welcome to the future of medical education.
University of Utah Health is embarking on the construction of a new state-of-the-art facility embedded in its health-sciences campus. The new School of Medicine building will create an advanced home that enables cutting-edge training and can anticipate, adapt, and integrate the rapid educational changes and demands that will arise over the next half-century.
Within its walls, students, faculty, and staff will find the tools they need to learn, train, discover, and innovate.
"We are at a moment in time when the need for public health could not be more evident," says Michael L. Good, MD, CEO of University of Utah Health, Senior Vice President for Health Sciences, and Dean of the School of Medicine. "I am exceptionally proud of the work from our faculty, researchers, students, staff, benefactors, and all of the members of our community who offered tremendous input into the design of this building. This will be a signature addition to our campus. More importantly, it will serve to dramatically enhance our medical-education experience. Generations of health-care providers, researchers, innovators, and medical professionals will pass through its halls, then move out to serve the people of our state, nation, and the world."
At its heart, the School of Medicine is a teaching facility. Currently, many of U of U Health's classrooms and labs are aging. The new School of Medicine will give students the spaces they need to take advantage of the expert training available to them.
Throughout the Core Med area, classrooms will range from small in scale to grand auditoriums. Large sections of students can assemble for a class, easily break into small groups, and then quickly reassemble.
"What we are really looking for are flat classrooms with students facing one another in acoustically reasonable spaces, so that students can learn through conversation and curiosity-based learning," says University of Utah School of Medicine Associate Dean for Curriculum Sara M. Lamb, MD.
Small, private groups are where a lot of the work happens in medical school, and in the new building, there will be no shortage of available workspaces that are conducive to hours upon hours of studying and team projects.
The Core Med area will also be the home of School of Medicine administration, including the dean and senior leaders, admissions, registration, student support, and the Alumni Association. These nearby offices will offer students easy access to the people and opportunities that can expand their learning—and it will build a stronger educational community.
Within the Discovery Center, researchers and students will develop, display, and implement innovations in teaching, research, and clinical outcomes.
"Students will not just learn about new discoveries or train on new medical technology—they're going to create them," says Bernhard Fassl, MD, the interim co-director of the Center for Medical Innovation. "We will bring together faculty, researchers, and students from across disciplines to address some of the most pressing issues in medicine today."
Made possible by a substantial donation and accounting for nearly a third of the overall footprint, the new center will house leading-edge simulation and 3D printers to create both products and techniques to be used for teaching future clinicians, researchers, and educators.
The Discovery Center includes:
The Center for Genomic Innovation, which researches and identifies genes that play a role in disease.
The Therapeutic Games and Apps (GApp) Lab, which develops interactive, medically focused games and applications.
The Center for Medical Innovation, which helps new ideas and products come to life by connecting innovators throughout the university and guiding them through the many stages of development. The center serves as a hub between health sciences, engineering, business, computer science, and entertainment and arts.
A Prototyping Lab and Machine Shop, which repairs existing devices, and designs and fabricates new products for the School of Medicine.

The Anesthesiology Bio Engineering Laboratory

, which develops and tests medical devices for use during anesthesia and intensive care. The laboratory will focus on translational applications—creating technologies that find their way to bedsides and marketplaces.
The School of Medicine will advance the U's commitment to improving health-care systems and outcomes around the world.
Plans call for nearly 15,000 square feet of space in the School of Medicine dedicated to Global Health. These work and meeting spaces will provide a central hub that makes collaboration easier for many global-health groups scattered through the health-sciences and main campus.
These groups are saving lives by improving the quality of health care in less-developed areas. Health problems that are easily treated in wealthier countries can devastate families, costing lives in many low- and middle-income communities.
"Our mandate is to cover the global space," says Juan Carlos Negrette, director of Global Health. "Being global is different than being just international. International is only looking abroad; we have an introspection. We look in our common spaces here. We work with our Indian nation, and at the same time, we work in the international space and we expect to connect these dots. We see that there are common needs across the globe."
The heart of the new complex will be advanced and flexible education facilities, including virtual- and physical-simulation spaces.
"This new facility will allow us to build around the latest techniques in education from the ground up," explains University of Utah School of Medicine Associate Dean for Curriculum Sara M. Lamb, MD. "We're moving away from traditional, auditorium-style lectures—the 'sage on a stage' approach that is just a transfer of knowledge—to interactive experiences, small group discussions, and simulation."
U of U Health students across the health sciences already use simulation, such as in the College of Nursing Simulation Center, where mannequins equipped with sophisticated technology replicate real patients from infancy to the elderly.
The School of Medicine will expand upon those capabilities with the Dumke Center for Advanced Medical Simulation, which will feature multiple simulation spaces, physical and virtual, each with a different focus. Instructors will be able to build and design environments for teaching and observation that simply do not exist today.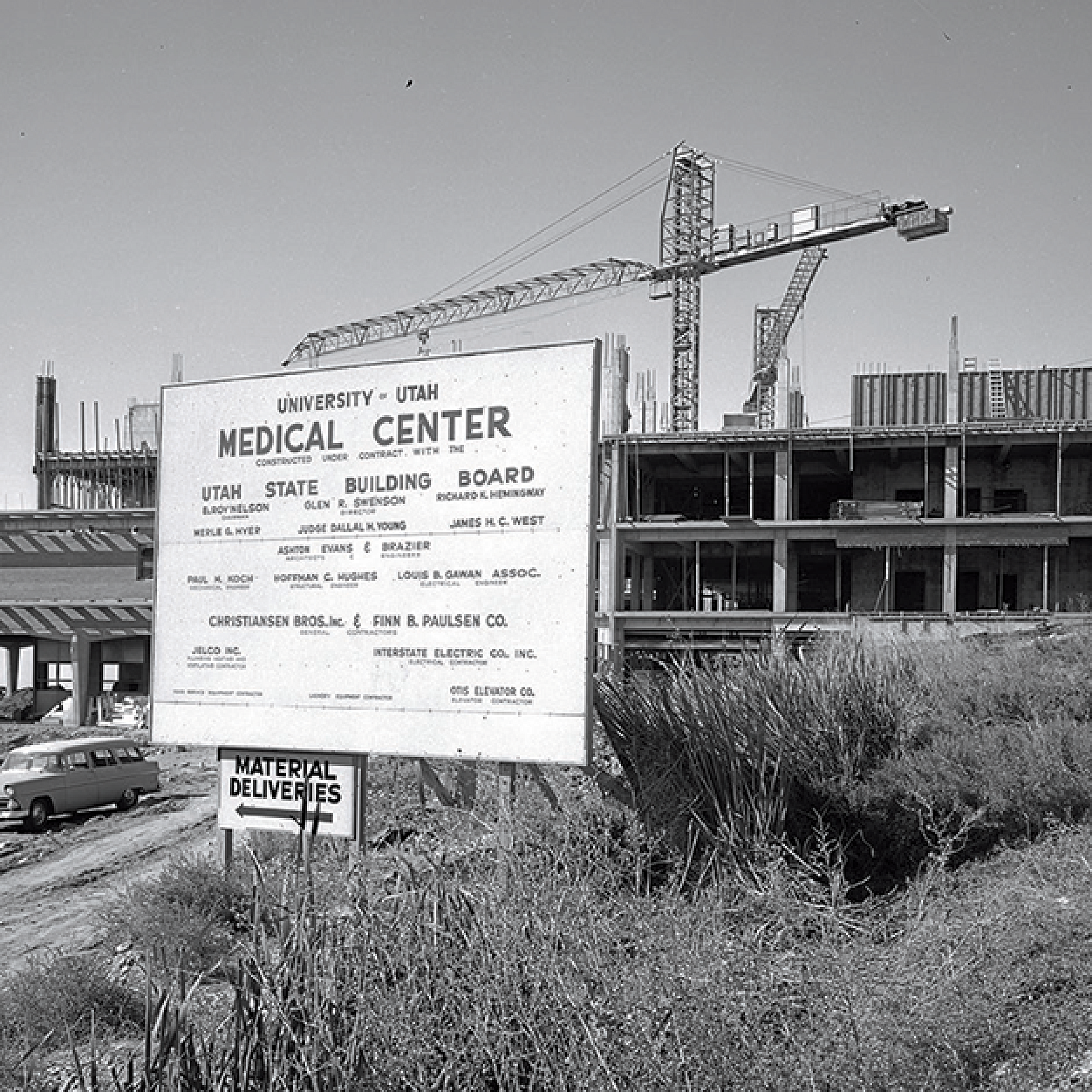 Construction ensued and in 1965 the long-awaited day came. The new University Medical Center, also known as the School of Medicine and Building 521, was completed and welcomed in nearly 500 faculty and 300 students. 
True to Price's words, the School of Medicine offered a destination for those seeking the best care, as well as a launching pad for discoveries, innovations, and breakthroughs that would change the state, the country, and the world.